Connor investigated physiology of developing PJ sharks response to elevated temperatures.
Dr Penelope Carbia
Penelope worked on spatial learning with gobies.
Catarina investigated shark learning abilities.
Dr Lois Olton
Lois examined the impacts of stormwater contaminents on rainbowfish and shrimp.
Dr Erin Kydd
Erin worked on training for hatchery-reared fish.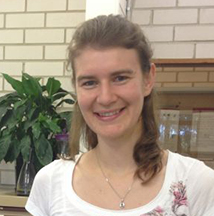 Dr Gemma White
Gemma investigated spatial learning in intertidal gobies.
Dr Anne-Laurence Bibost
Anne worked on laterality in rainbowfish.
Dr David Wells
David studied brush turkey mating systems.
Dr Joanna Wiszniewski
Jo worked on social networks in dolphins.